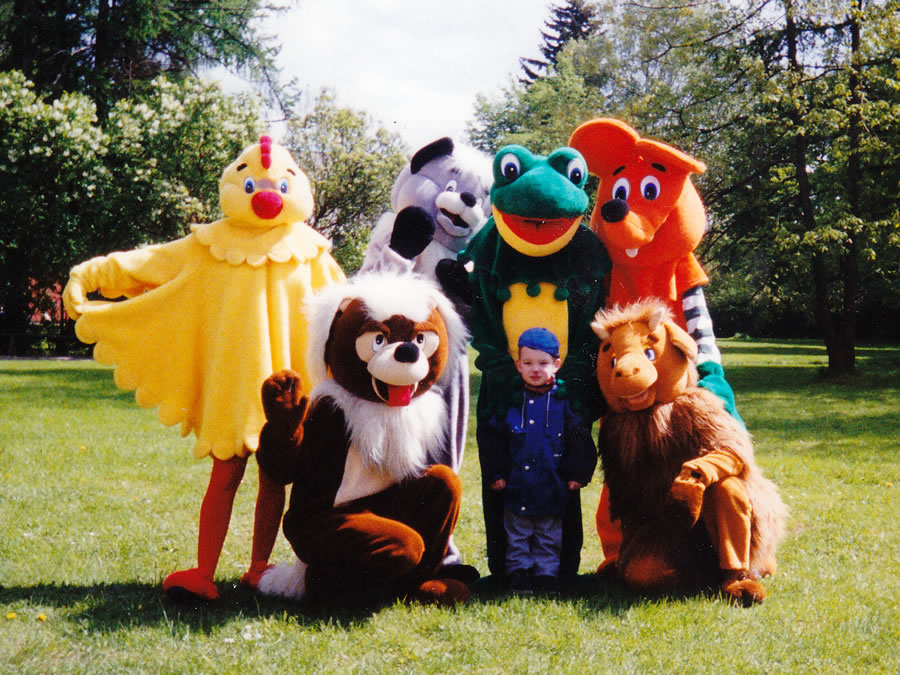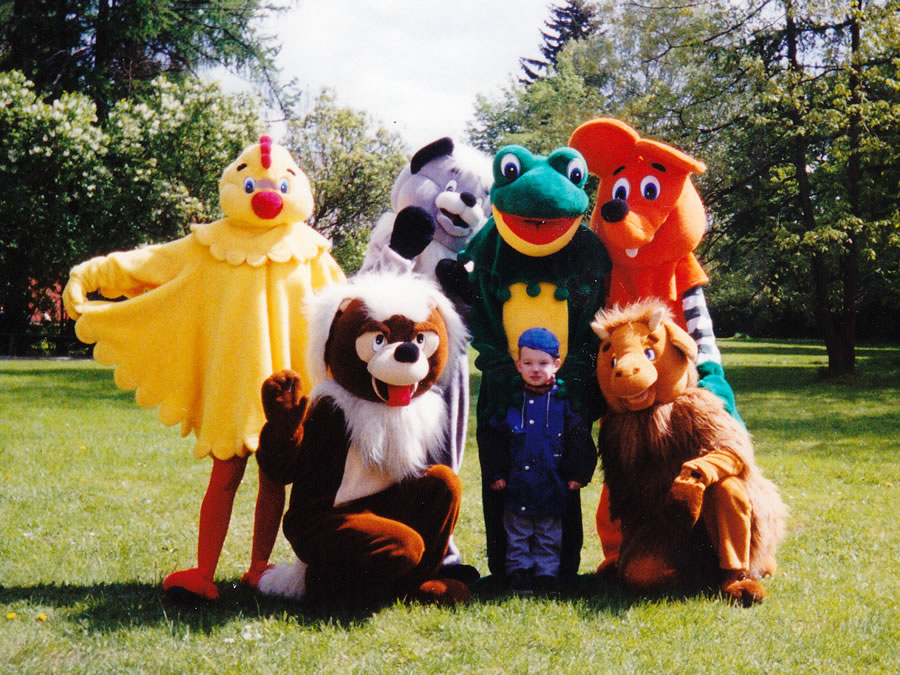 If you are in search for a company that would be able to manufacture a unique custom-made life size mascot – we will gladly help you! «AugumaLelles.lv» — the best choice to implement your ideas. Our craftsmen specialising in manufacturing life size mascots cherish their work – one can say that each costume bears a tiny part of its creator's soul. Everything starts with a careful selection of suitable fabrics for creating a new character – we prefer soft and smooth to the touch materials of vivid and attractive colours. After that we cut out pieces of required size and carefully sew them together – that is where the interesting part begins! With every new stitch the fairytale character as if gradually comes to life – it seems that it is about to leap upon its feet and run to entertain children. Manufacturing of life size mascots is a very serious and demanding job that can be entrusted only to the best professionals in their field – to us!
We produce life size mascots representing various themes and applicable for different purposes. You are planning on a masquerade, a thematic party or a New Year's carnival, and you wish it to look really original? Despite rich experience and traditions, our team is the fountain of new ideas! We will pick up your idea and implement it in the best light. «AugumaLelles.lv» — is a fairy godmother who would dress you up for the upcoming ball and make you the true star of the evening! Production of life size mascots includes manufacturing of costumes for conducting children's and corporate events. By ordering the costume of Hare and Wolf, Tom and Jerry (or any other hero at your choice) you can create a truly memorable holiday for your close ones – both children and their parents – since the majority of adults just wait for the right moment when they can fool around.
Besides that, we tailor costumes-mascots for children's events. If your kid expects a matinee or New Year's party and wishes to shine in the costume of the hero from the favourite cartoon, do not panic! We have a wide range of delicate textiles specially designed for kids, are competent in contemporary cartoons and get along nicely with children. Within a short time we will turn your kid into a hero from Hello Kitty, Wally from Kikoriki or any other character. Give your kid the moments of genuine happiness by entrusting us production of his or her holiday costume. Making up costumes-mascots for children's events – one of the main and most preferred lines in our work, as there is no greater pleasure than a thankful child's smile!
Making life size mascots we manufacture costumes for companies as well. During long years of work we had a chance to cooperate with such companies as Delma, Haribo and others – these are our mascots that gladden children at the main restaurant and amusement complex Lido. Life size mascots can serve as a symbol of your company at different fairs, presentations and expositions – they steadily attract attention and leave positive impression which, correspondingly, increases recognisability of your brand. Our costumes are great for entertaining and informing clients, distributing balloons and flyers of your company. Life size dolls can be used as mascots of your school or sports team.
What makes us the best in the sphere of manufacturing life size mascots and tailoring costumes-mascots for children's events?
Rich work experience
Quality and original costumes
Individual approach towards clients
Short order processing terms
Affordable prices
Come to share your most bizarre ideas and drafts with us – let's create holiday together!